Since I first published my list of the five best blowjob machines for men, several new automatic sucking toys have appeared on the market, including a 'smart' upgrade of the famous Autoblow. So here's an updated ranking list with my pick of the ten best blowjob machines you can buy online in 2020!
The flagship mid-range priced interactive male haptic stroker from Kiiroo contains 3 bullet vibrators that can be patterned to consecutively buzz up and down the shaft of your cock alongside the exquisite masturbation sleeve, resulting a very realistic blowjob experience that some would say is better than the real thing! The TITAN comes with three different sleeves for masturbation variety. Like all Kiiroo masturbators, this cutting edge sex toy can be synched with porn (including VR porn) or for remote sex with a partner or webcam girl. But even just as a stand alone sex toy, it's probably the best value blowjob machine you can buy today.
The famous Autoblow becomes the first ever blowjob machine powered by artificial intelligence. The Autoblow AI was created through machine learning algorithms applied to data captured from the reactions of various male subjects browsing blowjob porn online. The result is a automatic blowjob machine that can deliver the 'perfect blowjob', or rather – any one of ten different blowjobs that this smart sex toy has been programmed to deliver.
Like nothing else on this list, this 'Orgy Machine' might not quite technically be a blowjob machine, but oral sex lovers are certainly going to appreciate the crazily realistic and automatic moving tongue that licks away at the tip of your penis while you slide in and out of the pussy at the front of the toy.
One of the most interesting blowjob machines on this list, and arguably the most sophisticated male sex toy in the world. The latest version of Kiiroo's Onyx male masturbator is (like the original) a haptic sex toy that can be used with pre-recorded porn, including VR porn (and including blowjob scenes!), and even with live webcam performers or with your partner or long distance lover who has the female version (the Peral haptic vibrator). It can also be used as a standalone toy/automatic blowjob machine too.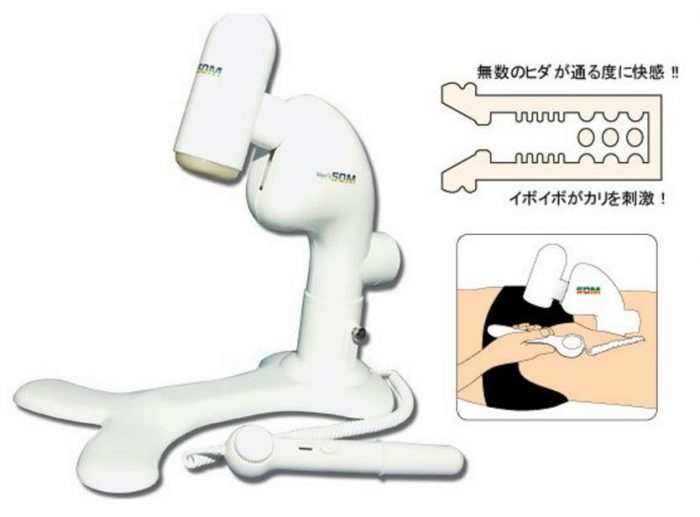 The legendary blowjob machine from Japan that had few rivals until recently. Unparalleled at the time of its release, it has a speed of up to 180 sucking motions a minute. It is, however, still hugely expensive, especially considering cheaper toys can do even more.
6# Kiiroo Fleshlight Launch – $195 at Kiiroo
From the same company that produces the haptic sex toy the Onyx, this device is more like a 'haptic adaptor' which turns any Fleshlight sleeve you put inside it into an interactive sex toy. You can use the toy as an automatic sex/blowjob machine using preset patterns, synched with recorded action, including virtual reality movies, or even interact live with webcam performers.
Smaller than its big brother, yet scarcely less powerful. The clever design of the SOM compact blowjob machine lets you hold it in your hand as it sucks you off or place it on any flat surface for hands free masturbation. The Puchi SOM Compact is currently the top selling sex machine in Japan.
An innovative and exciting new male masturbator that uses vacuum pressure to create a suction pump that swallows your penis and stimulates it with a powerful sucking effect. The Satisfyer will completely engorge your penis head and deliver an easily controlled vacuum effect just the way you like it.
Lovehoney's latest and best attempt to make a realistic oral sex toy for men. The Hot Shot's smooth silicone material completely swallows your penis head and stimulates it with both pulses and vibrations, as well as a small suction effect. More of a male vibrator than a genuine blowjob machine, but still a great toy to consider.
The Autoblow is the most famous blowjob machine in the world and the second version was a much needed improvement on the original. Still not a perfect toy, but at this price range it doesn't get much better and is a simple to use automatic masturbator that should satisfy most. Now of course superseded by the Autoblow AI (see above)
And the best of the rest….
Another innovative and powerful blowjob machine from Japan, the universally well received REV1000 also provides a new twist – almost literally! The masturbation sleeve of the toy not only rubs against your cock as you slide it up and down, it also rotates around your cock in a variety of patterns and speeds that you can control!
This clever contraption isn't electric, but it's ingenious design and realistic imitation of a female mouth (complete with tongue and teeth!) mean that it delivers an authentic blowjob experience with a minimum of fuss.