I've tried many male masturbators and vibrators, read countless customer reviews, and researched the opinions of other sex toy consumers and reviewers online to come up with what I think is the definitive top ranking list of the best male sex toys availabe in May 2022.
Quick Top Five List Of The Best Sex Toys For Men

1 # KIIROO KEON ($249) – Powerful Haptic Male Masturbator.
2 # THE HANDY ($169) – Advanced Haptic Male Masturbator.
3 # LOVENSE Calor ($119) – 360 Degree Remote Sucking Machine.
4 # VIRTUAL MATE ($399) – AI Virtual Girlfriend Male Sex Toy.
5 # KIIROO ONYX+ ($219) – Premium And Advanced Interactive Sex Toy Tech.
Top Ten Male Sex Toys In May 2022
1 # Kiiroo Keon ($249) Most Powerful Haptic Male Masturbator
Capable of a crazy 240 strokes a minute, this is Kiiroo's latest, most powerful, as well as most sophisticated and smartest interactive haptic male sex toy. Designed to be the next generation version of their popular Fleshlight Launch, this uses their own patented ultra-realistic sleeve made of skin like material, providing for arguably the most immersive and truest virtual sex experience you can currently get – either with a remote lover or webcam girl, or within a VR headset.
2 # The Handy ($169) Advanced VR Porn Stroker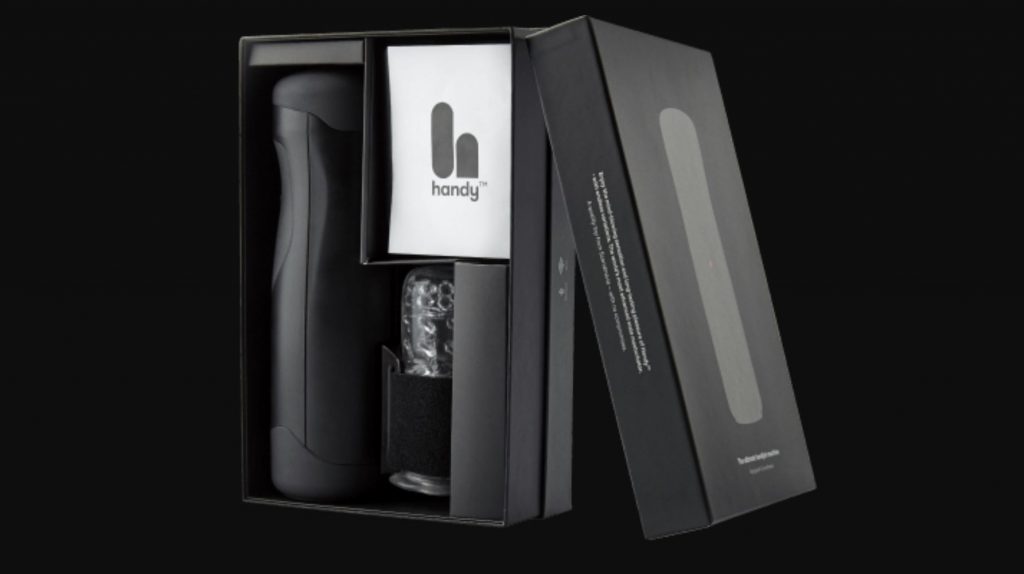 The Handy is another new haptic male sex toy designed primarily to be synched with virtual reality porn for a whole new level of immersive masturbation. Sleek and surprisingly simple, it quickly won rave reviews with hardcore VR porn fans who have come to see it as an essential accessory for their virtual reality sexcapades.
3 # Lovense Calor ($119) Interactive Premium Male Masturbator
The Calor is the latest high end, yet highly affordable, remote male masturbator from Lovense. The toy utilizes unique 'depth sensors' that allows it to know how deep your penis is inside it, adjusting the experience accordingly. Vibrations and tightness can also be set manually, while the toy is controlled by a smartphone app that allows anyone around the world to pleasure you. It can also be paired with Lovense vibrators for virtual sex.
4 # Virtual Mate ($199) World's First Pleasure Air Stroker
A new dimension for male sex toys, the Virtual Mate is billed as the world's first virtual intimacy system. An AI companion and haptic male masturbator rolled into one, the toy allows you to have sex with a computer generated virtual lover of your own choosing. Can also be experienced in virtual reality. Ongoing software updates mean that the Virtual Mate you buy will continue to become more advanced as time goes on.
5 # Kiiroo Onyx+ ($219) Interactive Premium Male Masturbator
The Onyx+ is the third generation of the trailblazing male masturbator from premium interactive sex toy company Kiiroo. As you would expect from perhaps the world's best haptic sex toy, it can be synchronized to porn videos, including virtual reality porn from a number of leading sites, as well as even live webcam shows or remote sex with a girlfriend. One of the best automatic masturbators in its own right, it takes male masturbation to the whole new level of realistic virtual sex when connected online or remotely.
6 # Lovense Max 2 ($99) Remote Sucking With 360 Degrees Of Joy
Another revolutionary haptic sex toy that allows remote sex between couples or even webcam performers and their fans. Like other haptic toys such as the Kiiroo, it can also be synched to VR porn, or simply used as a solo male masturbator.
The toy employs adjustable air pressure to create a 360 degree contraction effect around the intricately ribbed and nubed sleeve, while a vibrator buzzes along much of the length. Both the contraction and vibration can be controlled via a smartphone app, either by the user or by his remote lover.
The Tenga Flip Hole took the male sex toy world by storm when it was released in Japan a few years ago. One of the most sophisticated male sex toys ever made, it combined the kind of intricate ribbed and nubbed masturbation sleeve that Japanese masturbators, and Tenga sex toys in particular, are famous for. It's defining feature – alogn with the famous flip opening – is the novel use of vacuum pressure that can be controlled via buttons running alongside the sides of the case. A variety of sensations can thus be produced using different combinations of buttons, including gentle sucking and squeezing. The only thing missing from the original Flip Hole was vibration, and now that's been fixed with this premium upgrade.
8 # Kiiroo Titan ($149) Powerful Haptic Male Vibrating Stroker
Another superb interactive haptic male stroker from Kiiroo that can't be left out of the top ten. Known as 'the beast' of VR porn toys, this powerful vibrating stroker does it all, from automatic male masturbation, to remote sex and virtual reality porn. At $150, quite a bit cheaper than Kiiroo's other premium male sex toys.
9 # Arcwave Ion ($199) World's First Pleasure Air Stroker
An immediate hit when it launched in 2020, this unique 'Pleasure Air™ stroker' uses pulsating airwaves to stimulate sensitive pleasure receptors to produce what the makers claim (the same company producing the famous Womanizer and We-Vibe) to be the first male masturbator to give men a 'female' orgasm.
10 # Blowmotion ($89) Great Value Self-Warming Male Masturbator
One of a new range of 'Blowmotion' automatic male vibrating sucking toys, all of which are self-heating and sophisticated masturbators that represent excellent value for money.
More Male Sex Toys To Consider
11 # Arcwave Voy ($99) Ultra compact portable male stroker
The ultimate in a portable, discreet, and easy to clean (and dry) mastubrator, that every man should have in his pocket..or at least his suitcase.
12 # Cobra Libre 2 ($129) The Legendary First Male Vibrator
The original Cobra Libre was the first true 'vibrator for men', and this updated version is still good enough to keep the toy in most top male sex toy lists. Sleek, stylish, and very comfortable to handle, the motors of the toy are designed to softly stimulate the most erotically sensitive parts of the penis – something it succeeds in doing exquisitely.
13 # Tenga Flip Orb ($79) Ergonomic Easy To Handle Flip Hole
The famous Tenga Flip Hole got upgraded with this sleek and ergonomic design. More portable than ever, and even easier to handle and operate. The inside is even more deliciously intricate too – with extra hard orbs combined with a super soft nubbed texture.