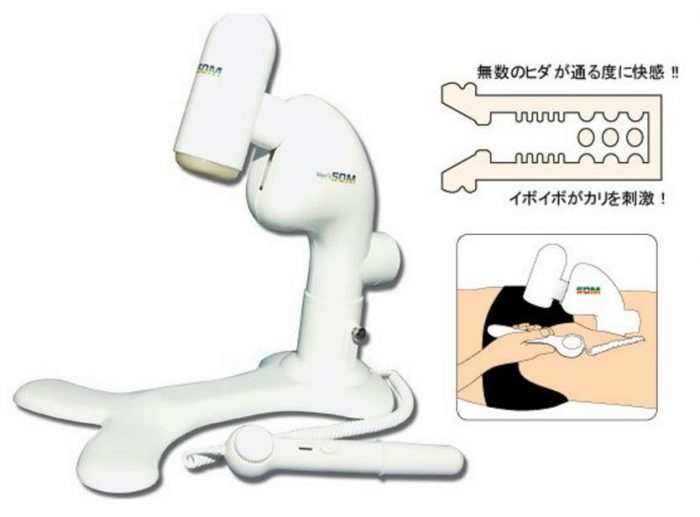 An incredibly powerful male sex machine that sucks your penis at up to 180 strokes per minute. Although powerful, you'll be pleased to know that it's safe and very easy to control. It's also pleasingly easy to clean. Rated by most as the best sex machine for men in the world, this thing certainly beats all the cheap 'blowjob machine' contenders out of the water. If you want to spend 500 bucks on a sophisticated sex toy, then this is probably the one to buy. And if you can only afford something cheaper or smaller, then pick the Compact SOM below.
The most interesting blowjob machine on this list, and arguably the most sophisticated male sex toy in the world. The latest version of Kiiroo's Onyx male masturbator is (like the original) a haptic sex toy that can be used with pre-recorded porn, including VR porn (and including blowjob scenes!), and even with live webcam performers or with your partner or long distance lover who has the female version (the Peral haptic vibrator). It can also be used as a standalone toy/automatic blowjob machine too.
Smaller than its big brother, yet scarcely less powerful. The clever design of the SOM compact blowjob machine lets you hold it in your hand as it sucks you off or place it on any flat surface for hands free masturbation. The Puchi SOM Compact is currently the top selling sex machine in Japan.
4# Kiiroo Fleshlight Launch ($195)
From the same company that produces the haptic sex toy the Onyx, this device is more like a 'haptic adaptor' which turns any Fleshlight sleeve you put inside it into an interactive sex toy. And this includes all of the fabulous 'Fleshlight Mouth' sleeves. You can use the toy as an automatic sex/blowjob machine using pre-set patterns, synched with recorded action, including virtual reality movies, or even interact live with webcam performers.
5# Autoblow 2
The Autoblow is the most famous blowjob machine in the world and this second version is a much needed improvement on the original. Still not a perfect toy, but at this price range it doesn't get much better and is a simple to use automatic masturbator that should satisfy most.
Another innovative and powerful blowjob machine from Japan, the universally well received REV1000 also provides a new twist – almost literally! The masturbation sleeve of the toy not only rubs against your cock as you slide it up and down, it also rotates around your cock in a variety of patterns and speeds that you can control!
7# HEPS Oral Sex Simulator ($113)
This clever contraption isn't electric, but it's ingenious design and realistic imitation of a female mouth (complete with tongue and teeth!) mean that it delivers an authentic blowjob experience with a minimum of fuss.