A significant majority of the adult industry believe that 4K porn will have no impact on the porn world according to a poll carried out by XBiz.com (the closet thing the industry has to a 'trade body').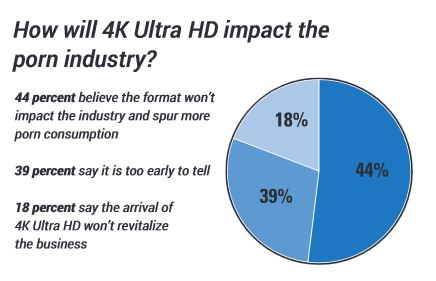 While the majority of those polled were sceptical and the rest seemingly doubtful, Dominic Ford was a lonely voice proclaiming that it was 'inevtiable' that 4K porn would be the future. Whilst expressing familiar doubts about the expense of shooting 4K porn and the bandwidth required in downloading it, Dominic made the surely correct observation that just as consumers now expect all porn to be in HD, it will inevitably come to to pass that 4K will eventually become the new standard. Dominic Ford is one of only 3 porn sites offering 4K at the current time (and in his case only one scene).
You can read the entire XBiz research results in PDF format here.