The Virtual Taboo studio is one of the most famous and popular in VR porn, behind not only the long-established kinky fakecest VR site Virtual Taboo, but also the darker-themed Dark Room VR. Fans of both popular sites might be interested to learn that they now have non VR site – OnlyTarts.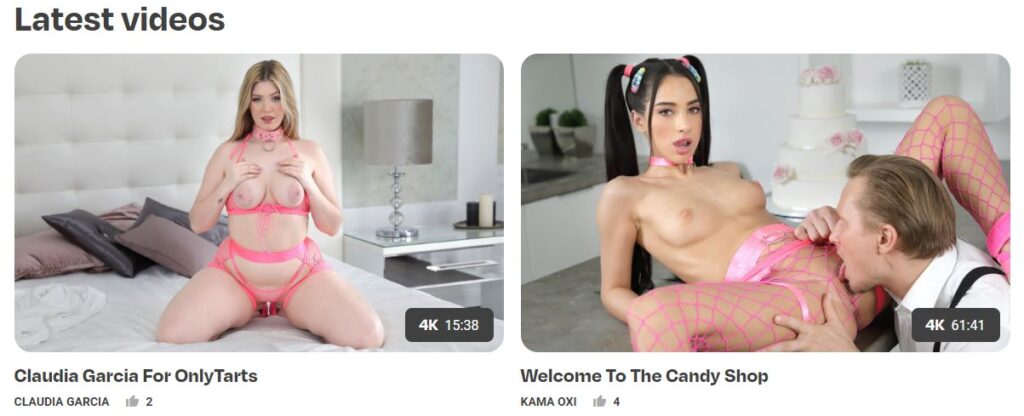 OnlyTarts is filmed in 4K Ultra-HD, and its style appears to be bright and colorful, with pink being a dominant visual theme. And the girls, whilst young and looking so cute and innocent, are clearly the seducers here, at least in most of the scenes. That's not to say that the little tarts can't enjoy a little rough sex too! Another departure from their VR sites is that, along with the usual European Virtual Taboo actresses such as Claudia Garcia, quite a few top American stars are featured too. These include some of the most popular US actresses currently in VR porn, such as Leana Lovings and Blake Blossom.

The site launched with almost 30 videos to enjoy already, and we should expect at least one new release a week, given that has been the release schedule of Dark Room VR and that Virtual Taboo sometimes releases four videos each week. The movies of OnlyTarts range from shorter solo girl masturbation videos, to full-length sex scenes that clock in at just under the 60 minute mark. Pricing is the same for the two Virtual Taboo sites, with a montly membership 'discounted' to $14.99, six months to $89.99, and 12 months to $124.99.