Top 10 VR Porn Pay Sites And Best Join Option
Here are the top ranked virtual reality porn pay sites in December 2021. Rankings are based upon my personal experience and judgement as regards quality of the videos, and taking into account various objective criteria such as membership costs, screen resolution, update frequency and archive size, as well as reading countless other opinions and reviews online. I've also selected what I feel is the best value deal out of their membership options (for the very top sites who are going to be around for a long time to come, lifetime membership nearly always represents the best deal). Updated every couple of weeks, I pay attention to the quality and frequency of recent releases, and sites will move up and down accordingly.
1 # VirtualRealPorn – $249 Lifetime Membership
2 # BadoinkVR – $375 Lifetime Membership
3 # VR Bangers – $250 Lifetime Membership
4 # Virtual Taboo – $250 Lifetime Membership
5 # CzechVR Network – $14 Per Month Subscription
6 # SexLikeReal – $38 Monthly Subscription
7 # WankzVR – $299 Lifetime Membership
8 # Dark Room VR – $250 Lifetime Membership
9 # VR Hush – 90 Days $16.95
10 # RealJamVR – 12 Months $8.33 Per Month
Complete Rankings Of The Top 34 VR Porn Sites
1 # VirtualRealPorn – Now Fiming In 8K With 2 or 3 Updates Per Week
Fuck Her Now In VR
The very first virtual reality porn movie site and still rated by many as the best. Established in 2014 and now with an astonishing 670+ video archive. Updates more often than any other top studio, at least twice a week, and in July 2021 began releasing videos in 8K. High resolution free trailers can be found at their site formatted for every headset for you to download and try with immersive head tracking. All of their movies can also be synchronized with a variety of haptic sex toys including the Kiiroo.
2 # BadoinkVR – Top VR Studio That Attracts The Biggest Names
Fuck Her Now In VR
One of the very first virtual reality porn sites, BadoinkVR has – over five years and 500 videos – not only kept up with the competition, but maintained its position as the industry leader. Technically excellent, innovative, and arguably having the biggest selection of pornstars as well as the biggest names (some even on exclusive contracts), they moved up another notch recently with their move to 7K. And there's certainly no upscaling here – Badoink's latest 7K videos are regularly praised by VR porn fans as the best there is. Release around 6 – 8 full-length premium videos every month. The biggest VR porn studio there is, with a number of sister sites such as 18VR. If you think you will be a subscriber for more than a few months, then the $299 lifetime membership will be the best deal – a very safe bet for such a major studio.
3 # VR Bangers – Now Filming 8K VR Porn Videos
The site that pioneered 6K VR porn, in 2021 it became one of the first to release videos in stunning 8K Ultra-HD. This means it is one of only several sites ready for the latest generation of virtual reality headsets such as the Oculus Quest 2 (which has a screen resolution of close to 8K).
One of the most active, innovative, and ambitious sites, here for the long road, it's long been the most 'future proof' of the sites. A great choice for a lifetime membership option (advertized as $750, but often on sale for $250 – a real bargain!). VR Bangers also has a well earned reputation for shooting beautifully filmed, natural sex scenes, with stunning backgrounds and costumes.
4 # Virtual Taboo – Kinky Virtual Reality Porn Featuring Nubile Teen Girls
The naughtiest VR porn site online, letting you indulge your most taboo fantasies involving stepfamily members, both barely legal naughty stepdaughters and horny cougar stepmothers who would have sex with their own stepsons! This site often introduces some beautiful and fresh young Ukrainian and Russian talent into the world of VR Porn, while regularly featuring well known international names as well. Features both teens and MILFS, often together in the same perverted scene! The quality is consistently excellent, they release three new movies each week, and in the summer of 2020 became the very first VR porn site in the world to film in 7K resolution!
5 # CzechVR – 8K VR Videos From Czech VR Studio Network
One of the most established of VR porn sites and widely regarded as shooting some of the technically most satisfying virtual reality movies. In the summer of 2020, it became the first pay site to release videos in 8K resolution, ready for the next generation of handsets including the Oculus Quest 2. Based in Prague, the site now features many international models, as well as a good selection of the most beautiful Czech porn talent. Members get access to two other 8K VR sites – Czech VR Fetish, and Czech VR Casting, making a membership at as low as $14 a month perhaps the best value option out of any of the top sites.
6 # SexLikeReal – The Netflix Of VR Porn
Fuck Her Now In VR
The biggest VR porn site, housing videos from a huge number of various studios and even other top sites. Of course, the subscription prices are higher than any other site, but if you are a hardcore VR porn fan and want a Netflix style hub with the biggest selection of videos daily to watch, then this is a site to consider spending your money on. An increasingly large number of the videos also come with interractive 'scripts' which allow you to feel the virtual sex with a haptic sex toy such as The Handy or the Kiiroo Universal Launch.
7 # WankzVR – For Lovers Of Pretty American Girls In VR Hardcore Porn
Fuck Her Now In VR
Arguably the leading US based VR studio, this is definitely the site to join if you want to experience sex with pretty young American girls in virtual reality. Almost certainly the widest variety of fresh and young American talent of any VR site. Two new releases each week, and as one of the oldest sites, now has a huge library of over 500 VR videos. Nearly every scene looks and feels different, with a wide variety of settings and backdrops, including a healthy mix of sunny outdoor locations. Now releasing their content in stunning 7K, as well as remastering the most popular of their older videos into the new Oculus Quest 2 ready resolution.
8 # Dark Room VR – BDSM VR With Dark Ambience

The new site from top studio Virtual Taboo. Similarly kinky themes are explored, but with a BDSM twist and with dark background lighting that not only creates a suitable ambience, but also puts the spotlight on to the actress. Like Virtual Taboo, the action is filmed in stunnig 7K. Has improved in quality throughout 2021.
9 # VR Hush – Great Casting And High Quality Movies
VR Hush has always been a popular and highly rated site among fans, but it has raised its game still further this year. Now filming in 8K resolution and notable for its excellent casting that rarely disappoints. Their movies have a fresh and innovative feel, often filmed outdoors.
10 # RealJamVR – Over 150 Premium VR Movies
Fresh and original high quality movies every week, with each new video running from 40 to 60 minutes or over. Some might rank it even higher on this list than this – it's certainly a site to consider joining and that appears to be improving over time. Updating twice weekly in 5K with a good variety of models. 'Casting porn' is a regular theme. A 12 months subscription at $8.33 a month is excellent value.
11 # SwallowBay – Blowjobs And Deepthroat Action In VR

The first VR porn site devoted exclusively to blowjobs, including some quite heavy deepthroat scenes (at least by VR porn standards). Launched in the summer of 2021, it's one of the most exciting new site launches for some time, with a fresh and unique feel.
12 # VR Latina – High Quality VR Featuring Beautiful Latinas
I only include niche sites on this list if they are particularly good, and VR Latina certainly is. A much bigger variety of (Latina) girls than you might expect, with many I haven't seen anywhere else. Consistenly praised by fans for their quality, membership rates are exceptionally good value too, with a years membership at around only $5 a month.
13 # SLR Originals – Most Innovative Western VR Studio
The most innovative virtual reality porn studio outside of Japan, you will see VR videos like nowhere else here. Recent videos have included one girl having sex with eight different men (which you can experience in either the POV version or the voyer version), multi-screen videos, and some rough balls deep anal.
14 # R18 – Massive Japanese VR Porn Site in English!
VR porn is hugely popular in Japan, and there is an ever growing variety of sites to cater for fans. The problem is that nearly all are in Japanese and are very hard to join for non-native speakers. But really, R18 is the premium site you need if you want sex with Japanese beauties in virtual reality, in VR movies made in Japan. The site already has over 7,000 VR videos, and it's not even a VR dedicated site – subscribe to it and get access to thousands of 2D Japanese porn videos too! Unfortunately, real Japanese VR porn means real censoring of pussies and penises.
15 # Stasy Q – Unique Softcore Erotica VR Site
The most beautiful and stunning softcore erotica in virtual reality. There isn't really another site quite like this around at the moement. Jaw droppingly beautiful models in Playboy style lush softly erotic striptease videos in VR. One new update per week.
16 # NaughtyAmericaVR – One of the first VR sites with a truly huge archive
Naughty America were the first established porn studio to move into virtual reality. Now with an archive of several hundred full length movies, they are still updating with two new high quality VR videos each week. An innovative and risk taking studio, they were also the first to film in 4K ultra-hd and recently became the first to offer 'holograms' to download to your phone that can be inserted in both your home environment (augmented reality) or viewed in a VR headset.
17 # SexBabesVR – Popular VR Site With Regular Updates
One of the most popular VR sites, it's also frequently praised by satisfied subscribers. Updates around twice weekly with a good variety of actresses. There is nothing unique or special about the scenes or backdrops, but the quality of the VR filming has always been regarded as among the best.
18 # Lust Reality – Excellent Variety Of Pornstars
Another high quality site that could be ranked higher. A huge selection of well chosen and always beautiful pornstars, with regular weekly updates, make this another site to give consideration to.
19 # Real Hot VR – Much Improved Site Now In 6K
Real Hot VR was launched early last year, right at the start of the Covid-19 pandemic, and it had a few teething problems in its first weeks. Since then it's gone on to much better things, now filming in 6K and with a good variety of slutty models who appear to really enjoy fucking for you in VR. A year's membership is only $95.
20 # WetVR – Relatively New Site With Lots Of Promise
One of the newer VR porn sites. Still finding it's feet a little in terms of releasing regular updates, but already a decent sized library of high quality videos. From an established porn studio producing popular 4K sites such as Tiny4K, this has a similar format of fresh, young American actresses being fucked hard by big dicked men, only now you can expeirence the role of the lucky guy.
21 # VRCosplayX – The Number 1 Cosplay And VR Porn Parody Site
From the Badoink team, this beautiful cosplay VR porn site releases one new video each week, lavishly produced with young actresses dressing up as anime, video game, or movie characters and letting you fuck them while still in their cute costumes!
22 # VirtualRealJapan – Real Japanese VR Porn Movies
Hand picked from the very best of the latest Japanese made virtual reality porn videos, this is a good choice for the very best in real Japanese VR porn.
23 # Baberotica VR – High Quality Solo Girl VR Masturbation Movies
Lots of unique solo girl content, with a wide variety of fresh young models of whom most haven't been seen much elsewhere in VR. Great content, but as of October 2021, it's unclear how often it is updating right now.
24 # 18VR – The Biggest Teen VR Porn Site Featuring Girls 18-21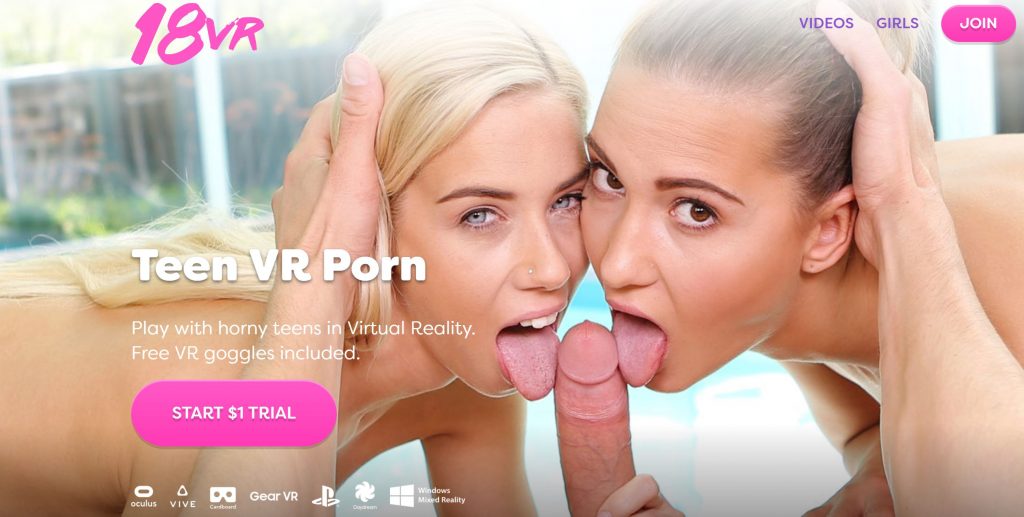 The ultimate teen VR porn site, 18VR features only young and barely legal Czech girls who can't get enough cock. One or two new releases each week with a good variety of girls and scenes, although as mentioned, the girls are usually Czech. Often they are closer to 25 than 18 too, but once a month or so, they really get it right and produce a genuine teen VR porn classic.
Offers a selection of videos from 20 of the top VR porn pay sites. With a trial only costing a dollar, it's a good way to sample most of the best studios and you can then take out a longer subscription to the ones you like.
25 # MilfVR – The Best Mature Woman Site In VR Porn
The only current site that is devoted to (slightly) older women, MilfVR is produced by the Wankz studio and of similar outstanding quality, releasing their weekly releases in 7K resolution. The most beautiful 'mature' women in VR porn, with one new video each week, and a huge and growing archive that has now reached over 235 movies. The age of the models is generally in the sweet spot of (very) well preserved 30's.
26 # VR Allure – Solo Girls Fuck Stunt Cocks
Beautiful teens and young women letting you have virtual sex with them through 'stunt cocks' (realistic sex toy torso and penises, rather than male actors for the POV role). This makes it pretty much unique out of all the currently updating sites. Some will not be fans of the use of the stunt cock, but personally I find it much more immersive, and the girls seem to relax more too.
27 # VR Conk – Innovative VR Site
One of the most innovative of sites, the studio behind VR Conk also produced the very first commercial augmented reality porn app (AR Conk). Struggled through lockdowns, but bounced back this year with innovative cosplay and even CGI digital VR porn movies. Recently it was announced that they had been bought by the VR Bangers studio, although their partnership seems to have been in existence for a lot longer. Lets hope they can retain their originality and innovative nature under the new ownership. Like VR Bangers, they now release their videos in 8K resolution.
28 # VR Temptation – Fresh New VR Site Weekly Updates
VR Temptations is a relatively new site that is only beginning to appear on the radar of VR porn fans. It's certainly worth considering, with weekly updates produced by a major studio, and that have a certain refreshingly different feel to them.
29 # Only3X VR – VR Addition To Premium Porn Network
The new virtual reality version of Only3X, this site features a lot of fresh pornstar models for you to go balls deep inside in VR. The selling point of the site at the moment is perhaps the fact that with a $1 trial you get access to not just the VR site, but also seven premium 2D porn sites in the network.
30 # VirtualXPorn – Unique VR Site Featuring Kinky Fetishes
Probably the most unique site on this list, and the only site to join if you are into some of the rarer niches such as granny or preggo. Good quality and rare content, but not sure if this site is still actually updating.
31 # HardOnVR – Slutty Amateur Style VR Porn
A new site that opened this year (2021), it's another good quality studio that focuses on amateur style pornstars who are very slutty looking and obviously love to suck and fuck in VR (and everywhere).
One of the oldest VR sites and devoted exclusively to 'teenage' girls, although like its rival 18VR, the girls are most often in their early 20's. Has faded in the last year or so in terms of casting, and as of October 2021 is still releasing movies in rather outdated 5K resolution. But it has a huge archive, including some of the best real teen VR porn videos ever made.
33 # RealPornstarsVR – Simple Sets And Straight Sex
An interesting new site from the Naughty America studio that launched in December 2021. Apparently taking its lead from the success of SwallowBay, the studio setting is similarly stripped down to a minimum and consistent theme, while the actor remains (largely) in one position during the entire scene. A site with potential, it should move up this list during 2022.
The only VR porn site dedicated to real amateurs. This is from the same producers of VirtualRealPorn, the oldest VR porn site and currently number one on this list. You can obviously take for granted that the quality is excellent, but the drawback is that they had largely stopped updating for a long time. That seems to be rectified now, and the studio appear to have big plans for their amateur VR porn site going forward.
Best Free, Review etc. sites
Virtual Reality Porn Sites – one of the top VR porn review sites.
Future Sex Tech – Sex tech and all things XR/VR/AR porn related.
Reddits
r/immersiveporn XR porn links and discussion – virtual reality, augmented reality, 3d porn, ultra-hd etc.
r/digisexuals (future sex tech – all the topics included here, vr porn, holo porn, teledildonics, sex bots etc)
r/oculusnsfw (the best VR porn subreddit)