I was regrettably informed this week by Naughty America reps that their groundbreaking 'Strip Club' and related 3D and AR features have been closed. This came as a real surprise, coming as it does, at a time when a metaverse world full of augmented reality has never seemed closer. This very month, Nreal brought the first commercial pair of AR glasses to the US market. This week, further rumors have abounded as to the 2022 release of the highly anticipated Apple AR/VR headset – now expected to launch in the last quater of next year, with processing power that could exceed that of an iMac. And of course, earlier this month there was massive hype generated from Mark Zuckerberg over the plans for his company (now called 'Meta' instead of Facebook) to build the Metaverse. The best selling Oculus Quest 2, which is estimated to have sold 10 million units already, and will likely sell millions more over the next few weeks, has already allowed developers to create AR through its 'pass through' black & white cameras. Meta have announced that a new high end VR headset next year, termed Project Cambria, will have full color passthrough and more sophisticated AR potential.
According to the same respected analyst who predicts an Apple headset in 2022, the Cupertino based company sees the demand for AR headsets will exceed at least one billion pieces in ten years, effectively replacing the iPhone and other smartphones. Both Facebook (Meta) and Apple see the future as being one of the Metaverse, as do many other high-tech companies such as Microsoft and Google. There is a race to build and dominate that Metaverse, which will undoubtedly be a multi-trillion dollar industry in another decade.
Just as Facebook/Meta have taken an early lead in the race to build the Metaverse, and now stand with a massive first mover advantage, Naughty America looked to be building a massive lead in the race to build the adult version of the Metaverse (some call it the 'Metaperverse'). Their Strip Club contained 'volumetric technology captured' live pornstars who could be viewed in your own environment via AR (and a smartphone app), or in VR inside a virtual environment. Admittedly, it was all very crude, as well as repetitive. I can understand that it would represent a very small income stream, and may not even have recouped the costs of the 'volumetric capture'. Still, it was surely a long term investment. While many doubt the appeal of a dancing pornstar avatar with limited motions, in your home environment, the huge and ever present popularity of 'desktop strippers' suggests otherwise. The problem is it becomes tedious looking at the pornstar through your smartphone for more than a minute. However, having one literally on your desktop as you do your work in your VR/AR headset (and eventually AR glasses) would be a different story. And of course, as AR gets more advanced, so will the AR girls, as well as their generation becoming simpler and less expensive. At some point, we will get to live AR girls appearing in your living room as though they really are there, instead of the few seconds of looped, flickering, low resolution uncanny valley pre-recorded 'avatars' we have now.
Furthermore, the Strip Club was the least interesting element of Naughty America's attempts at AR. They seemed genuinely to be trying to build an adult Metaverse, with their '3D creator' tool, and accompanying community which allowed users to 'share' each other's creations. Although crude and consisting of little more than cutting and pasting a few cgi animations into a choice of backdrops, it did point to the way forward. Eventually the hope was that users would collectively build a world, an adult metaverse, in which they could interact with each other through their creations. With Naughty America out of the race, I would suggest that the path to the adult Metaverse lies with content creation communities such as Virt-A-Mate.
Note that I recieved somewhat conflicting information from the two Naughty America reps I communicated with on this. One told me that Strip Club had been shelved 'temporarily' in order to 'fix a few things', while the other gave the impression that it was gone for good.
BadoinkAR App Is No Longer Available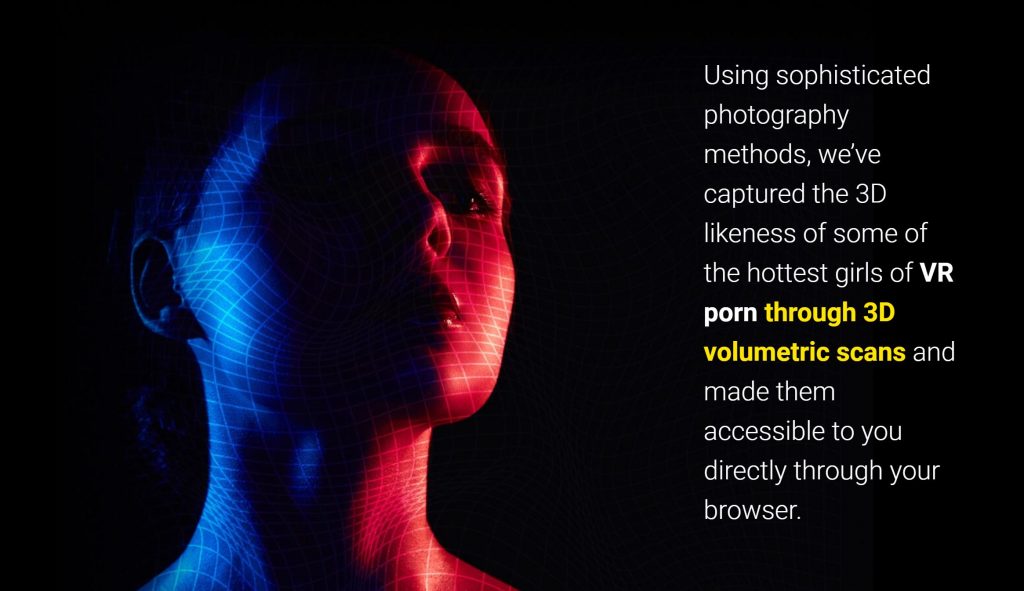 The abandonment of Strip Club and Naughty America's AR ambitions aren't the only set back for the development of AR porn. BadoinkVR's much anticipated AR app that had been stuck in 'demo mode' for nearly 12 months has now disappeared alltogether from their (VR) site. I have no information as to whether this is temporary or permananent. The 'AR girls' of Badoink were generated with similar tech to that of Naughty America's, with the result very similar as well, although many who have tried both apps regarded Badoink's as more realistic and fluid (although only one girl was available in the demo).
With the sale of VR headsets set to explode over the holiday period, perhaps both Naughty America and Badoink have decided to focus on staying on top of the VR porn world for now.
A third app – AR3X – has also apparently gone backwards. Utilizing purely digital animations, it was quite a different approach to that of the two VR porn studios attempting AR porn. A cast of varyingly realistic digital girls were already available on the web based app to transport into your home, with regular additions promised. Unfrotunately, their web page now appears much stripped down, although it still offers 'free access' (you have to enter an email address) and 'full access' for $1.99.