Mainstream media can't get enough of VR Porn, and every week there is usually a new story, a new panic, or the CEOs of leading sites such as PornHub or VRPorn doing the interview rounds still claiming that this time next year, every man and his dog will be fapping away in virtual reality. This is despite the increasingly negative realization that the hype around virtual reality in general has been at least somewhat overblown, or even looking ominously like a repeat of 3D TV failure a decade ago, or indeed virtual reality itself in the mid 1990s. But the leading technology market research firm Gartner – famous for their 'hype cycle' theory – recently claimed that VR was now out of the 'Trough of disillusionment' stage and in the 'slope of enlightenment' poised to become mainstream in 2 to 5 years.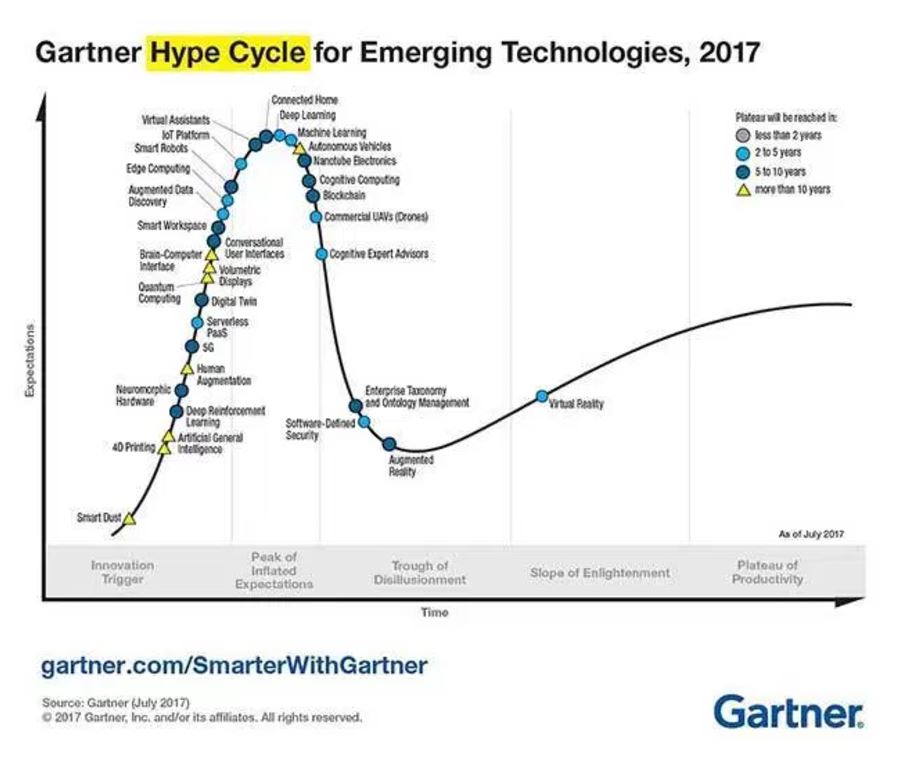 https://boingboing.net/2017/08/21/ar.html
Unfortunately for optimists, it was recently discovered that the same firm published a hype cycle chart way back in 1995, predicting that virtual reality was similarly poised for mainstream adoption :
https://techcrunch.com/2017/08/26/this-vr-cycle-is-dead/
So if the future of VR is uncertain, where does this leave the future of virtual reality porn? The chief criticism of virtual reality is that there is still no essential content. But no-one can doubt that there is plenty of porn to be experienced. There are at least 20 adult VR pay sites in operation now, with some of them releasing at least two new movies each week. And people are buying VR porn and retaining memberships in percentages at least as comparable to regular porn sites, which suggests that a lot of headset early adopters are really enjoying their VR porn. This is backed up by comments in forums and subreddits. While VR porn is far from perfect, it is satisfying a lot of people and it will only get better as resolutions get sharper and production techniques improve, and the headsets themselves get lighter and easier to use (while masturbating). However, a number of indications suggest that VR isn't good enough at present to drive the adoption of virtual reality itself. Many people bought headsets in order to experience VR porn, but this appears to be a diminishing demographic. The pool of people excited enough about adult VR in order to purchase headsets to view it appears already near exhausted, and word of mouth reports of VR porn do not appear to be sizeable enough to build a momentum whereby more and more people are going to buy headsets simply to experience virtual porn.
It's looking depressingly similar to the 3D TV/3D porn hype of a decade ago. I know from personal experience that thousands of people enjoyed 3D stereo porn, even through those cheap red/blue cardboard glasses that came free with cornflakes packets. However, it wasn't quite enough to reach critical mass. 3D porn was surprisingly popular, but it wasn't quite good enough for people to demand 3D TVs, 3D laptops, phones to view it on.
Take a look at the following Google Trends graph which charts search interest in '3d tv porn' and 'vr headset porn' respectively over the last 13 years :
Stereo 3D porn interest reached a peak at the height of the 3D TV hype in the year or two after Avatar broke box office records at the cinema. Since then it has steadily declined and likely will fall to near zero given that 3D tvs are no longer being sold. Searches for vr headset porn are not much higher than they were in January 2016, over 18 months ago. Is it too early to write VR porn off? Virtual reality isn't likely to go the same way of 3D TVs. It should at least be able to secure a niche gaming market, even if porn itself can't drive sales significantly. Headsets will continue to improve, more slowly if investment falls, but eventually they will likely reach something like mainstream adoption, even if it takes another decade, or even if it eventually happens through merging with likely far more popular 'augmented' or 'mixed reality' headsets and glasses (and in fact, this might happen later this year with the release of Microsoft 'Mixed Reality' headsets).
It's even more depressing if you look at seach interest in the USA – the biggest market. The following is the Google Trends graph for 'adult vr' :
Other indicators of the stagnating vr porn industry are the failure of VR cam shows. Several sites launched what promised to be regular live virtual reality sex shows earlier this year to much fanfare, including leading cam site 'Cam Soda', but in every case the sites appear to be almost completely moribund.
This year's holiday season could make or break vr porn in the near term. The launch of the relatively cheap Microsoft headsets in partnership with the likes of Dell and Asus is exciting. Further, they promise to implement some of the HoloLens 'mixed reality' technology, itself likely to get a boost when both Google and Apple begin a big push for augmented reality on smartphones. And the truth is, if VR porn is to survive, it might have to do so on the back of the much more promising idea of augmented reality porn.