The most authoritative and honest review of all the current AR porn sites and apps in 2022, including Meta Quest Pro porn, AR smartphone apps, and passthrough VR porn video sites.
Top Seven Bona Fide AR Porn Apps/Sites In 2022
1. Real Girls Now – The new home of Naughty America's VR/AR holographic girls.
2. SexLikeReal Passthrough – VR porn videos for passthrough AR.
3. Discplay.me – A refreshing new attempt at an AR porn app that works.
4. Passthru Hot Sauce – Augmented reality strippers for passthrough mode in the Meta Quest 2 AND the Meta Quest Pro.
5. Holodexxx – 2015 Patreon project now has a mobile phone AR app for sale, but models don't move.
6. AR3X – Purely CGI generated augmented reality girls.
7. My AR Girls – 2D girls placed in your environment.
AR porn is still very much in its infancy as compared to its virtual reality big brother, but that is sure to change rapidly over the coming months and years. October 2022 saw the release of the first generation of VR headsets that allow true high-resolution color AR – the Meta Quest Pro, and the Pico 4. Mixed reality is likely to be a key feature of all new major VR headsets (save for the purely gaming PSVR 2). And when Apple enters the game next year, in its first step towards AR glasses, the AR porn industry could begin to outstrip (excuse the pun) that of VR. Already 'passthrough' porn on the Quest 2 has built a steady following, despite its limitations on that device, as well as the very limited content designed for it. Sites like Naughty America's 'Real Girls Now', which place virtual strippers into your home, are going to explode. What's more, it has been found that expensive volumetric 3D scanning of models is not necessary to produce convincing AR in passthrough, and that a dark background or a green screen is sufficient.
Up until now, AR porn has struggled to take off, because the novelty of holding your smartphone up to view a porn actress in front of you, quickly becomes tiresome. Being able to view virtual strippers, or VR porn actresses having sex with you, whilst wearing a comfortable VR/AR headset (and soon glasses) is a completely different experience. And it starts now!
Best Augmented Reality Porn Sites November 2022
1 # Real Girls Now – New Home of Naughty America's AR Hologram Girls
The famous Naughty America brand were the first adult porn site to release 4K porn movies, the first established porn company to release virtual reality porn videos, and in 2019 they become the first established porn site to offer augmented reality porn content for subscribers. Thankfully, after temporarily shelving the project, Naughty America's AR hologram project is now back on its own dedicated website and better than ever.
Live action performances from their pornstars has been digitized in 3D, and you can place a variety of them and their movements into any environment you like. They are fully 360, cast a shadow, and everything alters authentically as you move around them. You can easily change their size or position, and twirl them around in 360.
You can also easily view the girls in their own virtual reality environments as well. There are currently 17 different pornstars that have so far been turned into digital AR holograms. When true 'mixed reality headsets' are here – and they are just around the corner with the Meta Quest Pro and then in 2023, likely an Apple VR/AR headset – this type of experience is going to be intense, and I'm sure wildly popular.
SexLikeReal is now not only categorizing their vast VR porn video collection for suitability to be experienced as passthrough mixed reality porn, but they are even now filming their own origiinal content with a green screen, specifically for mixed reality.
If you want to fuck pornstars on your sofa or bed, then this (or DarkRoomVR) is your best current option.
3 # Discplay.me – AR Porn Meets OnlyFans
A brave attempt to breathe new life into the struggling AR porn industry, this app does away with fancy volumetric technology and simply has 2D girls superimposed into your surroundings. Apart from working surprisingly effectively, the advantage of this is to spur on the first user generated AR porn community. Any prospective model can film themselves using a smartphone camera and a simple green screen, upload to the site and monetize their 'shows' OnlyFans style. Placement is excellent (although I did have trouble generating the girls when in a more enclosed space of a hotel room), and the girls are crisp and high resolution, fitting seemlessly into your environment. Pricing is through a small subscription fee plus a webcam style token system. The CEO of the company behind the app promises that live AR sex shows could be a feature within the next year or so.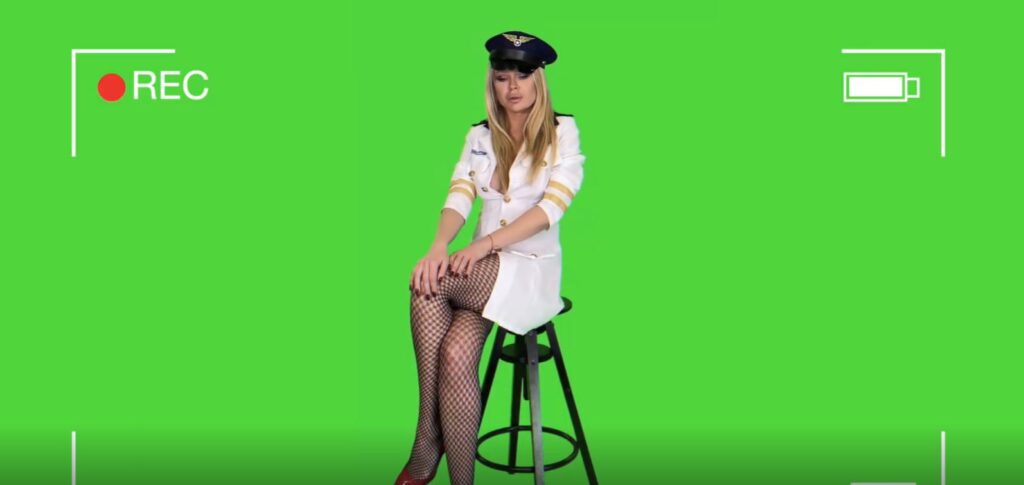 4 # Passtrhu Hot Sauce – First Quest Pro Mixed Reality Porn
This android app was designed for the Quest 2 passthrough mode, but it comes into its own with the new Meta Quest Pro's high resolution mixed reality feature. Yes, the animations are currently a little bit on the crude and clunky side, but at only $2.99 to download from itch.io, it's worth supporting to try it out and be part of the development of true AR porn.

5 # Holodexxx – Mobile Phone APP Available Through Patreon Or Itch
Holodexxx is an interesting Patreon project that has been around since 2015. In the last couple of years, it's finally been starting to deliver. You can at least now purchase and download a mobile AR phone porn app that allows you to 'spawn' any one of nine different pornstars in your home environement. The girls are as well rendered as those of the other apps at the top of this list, and feature names such as Riley Reid and Mia Malkova. However, they do not move – they can only rotate left and right. Placement is quite a bit off too. You can read a full review here.
6 # AR3X – CGI Generated AR Girls For Mobile Browsers
AR3X claims to be the first web based adult augmented reality app, and their claim would appear to be true – at least if you discount Badoink for still being in demo mode. No need to download an app, just access the AR3X website on your AR equipped smartphone, and the fully cgi generated girls will appear in your environment through your phone lens. There is no volumetric capturing of live models here, the girls are completely digital creations. Despite this, the AR doesn't offer anything more than the others on the list. You can't interact with any of the girls, other than place them around your room, resize them, and choose between various animations. Placement is very realistic, although the animations do not cast any shadows on the floor. There is a limited free demo you can try on your phone, but full access to the (currently) 11 AR girls and 87 animations costs $1.99 a month. Works for both Android smartphones and the iPhone. As of May 2022 and it is unclear if the app is still being updated or even available.
7 # MyARGirls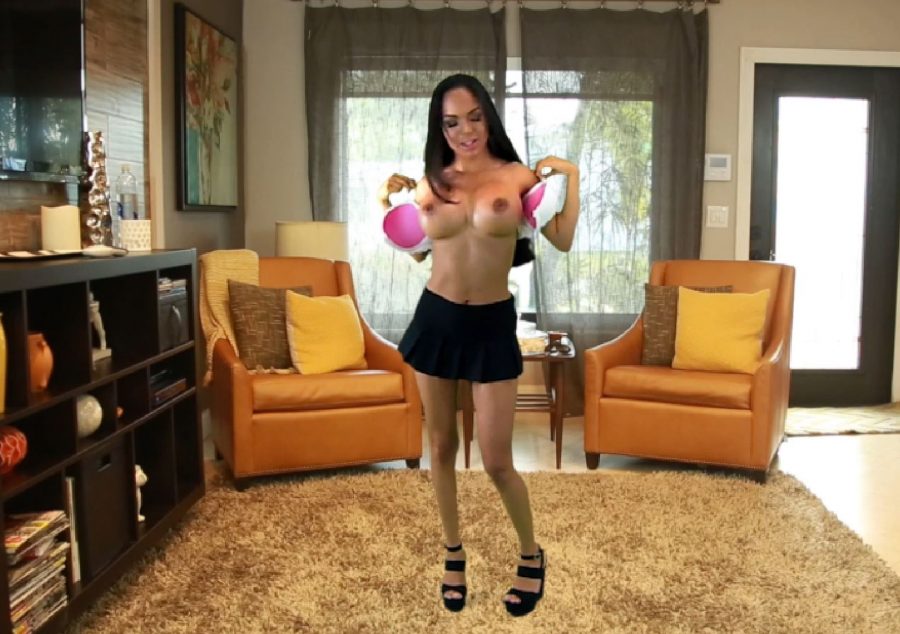 My AR Girls launched in early 2019, promising to put (real) AR girls into your living room. Not only that, but up to three girls at once, as well as live webcam girls. Unfortunately, they haven't progressed much in the nearly 1 and 1/2 years since. Still with the same three pornstars, in pretty much the same scenes that were available last year.
Unlike the other sites on this list, My AR Girls does not create digital 3D captures or avatars based on their porn actresses. They use only the actual video footage of the girls, in 2D, and place them into your surroundings via a combination of green screen and a mixed reality app. So there's no sense of these girls being 'holograms – you can't look at them from different angles.
All you need to view the AR porn videos on their site is the app (Merge123) downloaded on your smartphone, as well as membership of the site – which costs around $29 a month.
Given that their form of augmented reality porn is so simple, it's surprising they haven't updated with more scenes. Presumably, this reflects a lack of uptake of paid subscriptions.
Archive AR Porn Site Reviews
I decided to leave these here, as one or more of these currently discontinued sites/apps may return at some point, you never know. Also as a historical record of the exciting but faltering early history of augmented reality porn.
BadoinkAR – Exciting New AR Porn Development! (2021)
In December 2020, Badoink revealed free to try augmented reality porn at their popular virtual reality site BadoinkVR. Real 360 degree pornstars captured through volumetric photographic scanning, and placed realistically in your environment. Still not officially launched, and the BadoinkAR.com domain name redirects you to the VR site. It seems that BadoinkAR will have a variety of popular pornstars who have appeared for the Badoink studio in the past (including Mila Azul!). Currently, there is only one pornstar being demoed at the BadoinkVR site, but she appears in a variety of costumes and performs different sexy routines. The result is definitely the most realistic AR porn I've seen – a 360 'holographic' pornstar you can place into your environment.
You can enter your e-mail at BadoinkVR for 'early bird access' to the AR site when it becomes available. I expect great things from BadoinkAR later in 2021, and hopefully this is the real start of a thriving, competitive and rapidly developing AR porn industry.
CamasutraVR (2021)
Camasutra Industries launched over 2 years ago, attempting to create digital versions of hundreds of pornstars that you will be able to interact with in VR, AR, and MR. However, their Patreon page has since been removed, and it's unclear if they have made any progress at all.
ARConk – AR Girlfriend For $4.95 (2021)
ARConk were the first to demo a working AR smartphone app in 2018, and have been selling the fully realized product at their site (and also more recently at VRBangers), ready to download, for a one time purchase of just $4.95. The app, which allows you to place an animated (live captured) pornstar inside your real world environment, can be downloaded and played on any AR equipped Anroid smartphone, as well as the cardboard AR headset 'HoloKit'.
The company still state they are working on making the app available for the iPhone, as well as the major AR headsets currently available such as the HoloLens and Meta. However, this has been a promise that is long overdue now. To be honest, it doesn't appear that any progress has been made since the app was released two years ago. It's the same single model with the same routines, and a basic set of options such as changing her size or rotating her. Although the model is used is obviously very pretty, the digital capture of her does create a very uncanny valley effect.
The motion of the girl is very fluid, but not always realistic, especially for some reason the head. One of her routines is performed in the doggy style position with her thrusting her butt back and forth as though to simulate sex. I imagine masturbating with a sex doll, or maybe better just a realistic sex torso, while viewing this through an AR headset, would be pretty intense.
It does still feel not much more like an interesting demo. However, at just $4.95 it's certainly a must for any sex tech fan to try out.
Check out the video demo on YouTube below :
3D Holo Girlfriends (2021)
3D Holo Girlfriend promises to bring you the ultimate girlfriend experience. Like CamasutraVR, they were working on digitally creating avatars that you can interact with in your own environment. They also promised to implement A.I. as soon as possible. Like CamasutraVR, their site is still up, but it would appear that they haven't made much visible progress at all in the last couple of years.