The developer behind what was one of the very first AI porn generators (PornPen.ai) has predicted the emergence of a new kind of AI adult performer. Speaking to the increasingly woke future technology site Futurism.com, he agrees with me that rather than simply replacing real sex workers, AI will enable them to further monetize their careers, extend them, and even bring them out of retirement. This of course is already happening, with OnlyFans models and influences cloning themselves as AI chatbots. Last week I reported that a 52 year old former Playboy model had recreated her AI 26 year old version, which has already appeared on the cover of a magazine. And in July, pornstar Adriana Chechik has resurrected her career as an AI girlfriend after breaking her back early last year.
But the PornPen developer, who goes by the name DreamPen, believes that a whole new category of adult performer will be born through AI. Individuals will create adult AI avatars, and simps will pay to ineteract with them.
"I think sites like Pornhub will have to adapt or acquire companies, otherwise they will get beaten by new sites with new technology," he said, adding that "AI porn will create a new category of adult performer."

"Essentially, people can create an AI avatar that they manage, and people will pay to interact with them," he continued. "Online sex work won't rely on people using their own body, and the industry becomes more accessible."
This has actually been happening for some time, before the recent AI advances, with the phenomenon of VTubers, which I predicted a year ago would be the future of the adult Metaverse. And to be honest, a lot of the young women on live streaming services today are presenting themselves behind so many augmented reality filters, that they have become almost virtual avatars already.
'DreamPen' has made this prediction before, when speaking earlier this year to German based news channel DW Shift.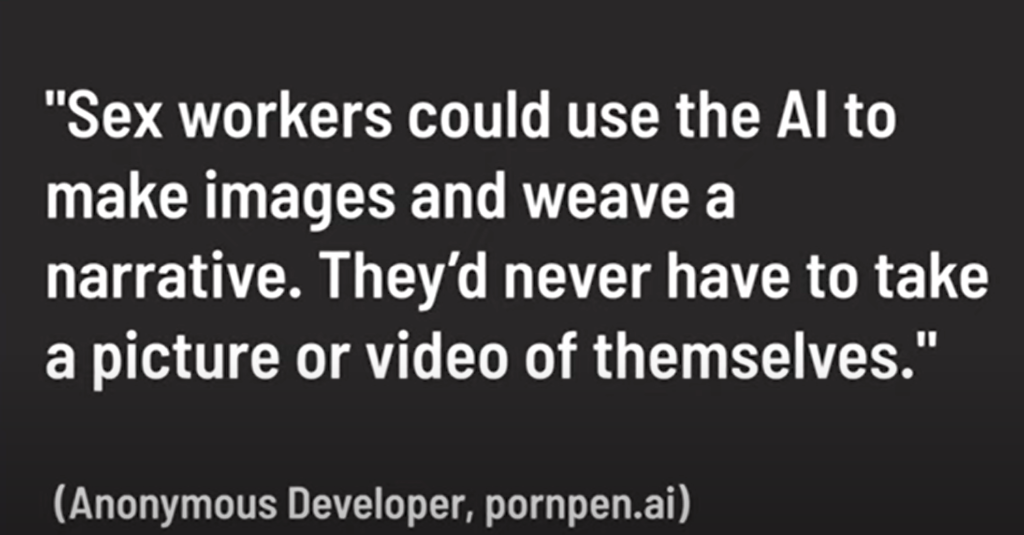 Meanwhile, real life sex workers have been complaining of double standards being applied by leading tech companies such as TikTok and Meta, who are allegedly allowing NSFW AI porn and girlfriend generators to advertise on their platforms, whilst strictly forbidding erotic apps featuring human content creators, or even sex toy products.
Polly Rodriguez, the CEO of Unbound, a maker of adult toys, said her company had faced obstacles advertising with Meta because of the company's policies. She said she sees the presence of the AI chatbot ads as evidence of inconsistent enforcement and a double standard.

"They're not addressing the root issue of: Why are these ads sailing through to begin with?" Rodriguez said.

Rodriguez is an adviser to the Center for Intimacy Justice, a group that has been asking the Federal Trade Commission to investigate Meta's handling of adult ads. The FTC said it had received the complaint but declined to comment further.
Human sex workers and AI avatars may eventually merge to create this new class of hybrid adult performer, but until they do, it appears the war between adult performers and sexy AI girls is well and truly on.