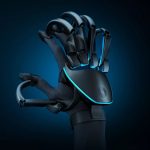 Teslasuit — known for its full-body haptic feedback suit — is introducing a glove that can let users feel virtual textures and gather biometric data. The device is called simply the "Teslasuit Glove," and it will debut at CES in January, with the goal of shipping by the second half of 2020.

Like the Teslasuit, the Teslasuit Glove is meant for training, medical rehabilitation, and other professional applications. It combines several different technologies to simultaneously create the impression of touching and holding objects, capture the motion of users' hands, and record pulse and other biometric information. The gloves can also be paired with the suit over Wi-Fi to offer nearly full-body motion capture or haptic feedback for virtual reality.
https://www.theverge.com/2019/12/26/21037855/teslasuit-glove-vr-haptic-feedback-glove-announce-pricing-release-date-ces-2020
Although a number of companies have taken a stab at haptic gloves (and even suits, as in the company above) for virtual reality, what's most interesting about this Teslasuit Glove is that it's paired with biometic tracking. The potential uses of this in virtual or augmented reality porn is pretty awesome.
Combine it with AI and you could have artificially generated 3D avatars who could react appropriately and expertly to YOUR responses. For example, imagine you are getting a handjob in VR. The digital babe would 'know' exactly how fast to perform it, and if you are wearing a haptic masturbation sleeve, how hard and tight to press your cock – all based on your biometric feedback.
In other words, not only will you be able to feel the bodies of avatars in virtual reality, they will be able to 'feel' you.
Using biometric feedback, and it might be possible to generate a user's perfect sex companion in XR. For example, an algorithm could artificially generate and then adjust a face and body shape according to your biometric responses – finally falling upon your 'ideal'.
It wont be long before real world whores, and maybe even wives and girlfriends, will be put out of business.