One of the first virtual reality porn sites – BadoinkVR – has become the latest of a select handful to offer augmented reality content. And it really is very good. Still not officially released, and indeed the domain BadoinkAR.com currently redirects to the VR site, but if you visit Badoink on your smartphone, you can try out the augmented reality feature for free.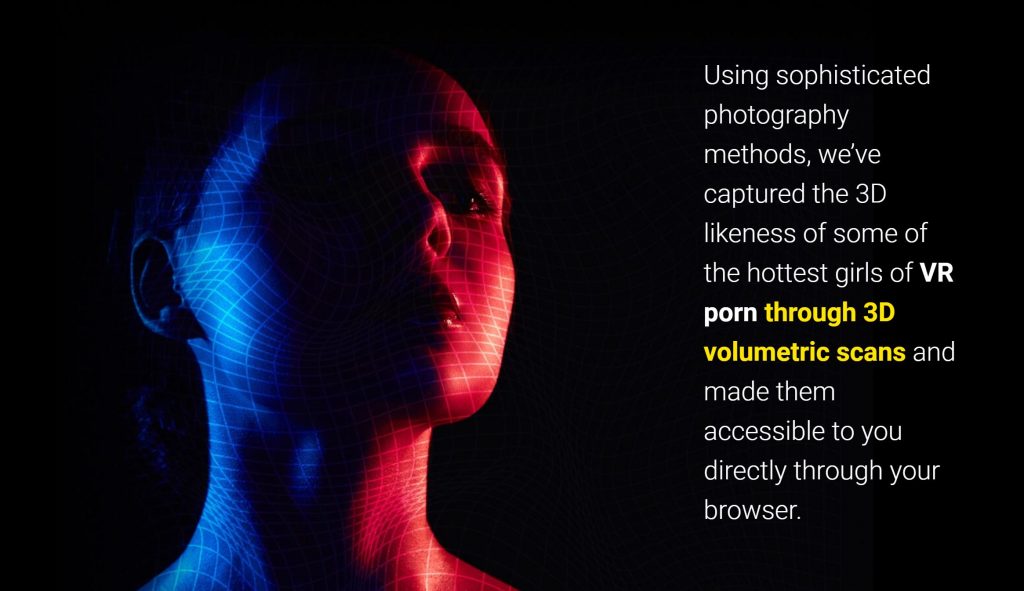 The pornstars were captured using 'brand new volumetric scanning technology', and judging by the one model that is currently viewable, they appear to be pretty much 100% photorealistic and accurate. I would say definitely more accurate than any I have seen before (which amounts to the two other AR porn sites – Naughty America Strip Club and AR Conk).
You can move around the girls and view them from 360 degree angles as if they were really in front of you. This is very cool and does give something of a holographic 3D illusion, although the girls are still 2D – at least seen through a smartphone.
Badoink's AR technology seems to do a very good job of placing the girl convincingly upon the most obvious surface in front of you (or where you are pointing your smartphone camera at). For example, pointing your phone at your bed, or at a table, will position the girl quite accurately with her feet on the surface of the bed or the table (all the animations I've tried so far have featured the girl standing up).
The fluidity of the girl's movement is also impressive, although not quite perfect. Others apparently consider it less glitchy than (I presume) Strip Club or AR Conk, but I'm not so sure. It would hardly be surprising if there is a trade off between the accuracy and resolution of the girl and the fluidity of her movement.
The relative size of the girl is a bit hit and miss, and unlike with the other AR porn apps, I seemed unable to pinch and zoom to increase or decrease the size.
I took the following screenshot in my corridor, and as you can see, she would appear a little on the tall side, so I hope they get the sizing option available soon. Notice also that in the screengrab below that she casts a shadow (as do the Strip Club models). It also moves in synch authentically with her movements, as well as yours as you walk around her!
As I said, the realism of the girl is very impressive, noticeably better in my view than Naughty America, and another level to AR Conk (which is still very much in uncanny valley territory). Now that there is real competition between sites, hopefully the AR porn world is going to advance at a faster speed.
It's still fairly rudimentary, of course, but it's a hugely exciting development. Having to hold your smartphone to view the girls does obviously become a little awkward after more than a minute or so, but looking ahead to when lightweight AR headsets and even glasses are more common, then it's not hard to envision that in 5 or so years, augmented reality porn will be very much more popular than VR porn – especially if the girls appear truly 3D through a stereoscopic or lightfield AR headset/glasses (and I see no reason why that wont be possible if captured through volumentric scanning with the accuracy as Badoink's have). Even if 'smart glasses' don't ever take off for everyday use outdoors or in public, then I can imagine that the adult market for 'live chat' with girls through AR glasses at home is going to become absolutely massive.
It has been quite a landmark week for the adult industry with the hit that Pornhub took, but this might be something even more monumental – augmented reality porn has truly arrived!